Peptone featured in PWC's Future50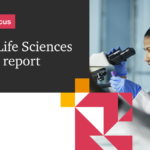 We are thrilled to be featured in this year's PwC report, The Life Sciences Future 50, which celebrates Britain's most innovative companies.
As the UK sets its sights on becoming a global life sciences superpower, harnessing the talent and capabilities from across the UK's ecosystem has never been more critical. The UK and its academic powerhouses have created an environment where scientists are able to push the boundaries of research to create breakthrough science in areas such as biopharmaceuticals, AI, digital health, diagnostics and medical devices.
A complete report can be downloaded from PWC's website.
About Peptone
Peptone is a translational biophysics company focused on the discovery of novel therapeutics against diseases driven by intrinsically disordered proteins. IDPs are proteins without a fixed structure that play a significant role in health and disease. For more information about Peptone Therapeutics, visit peptone.io.