Oppenheimer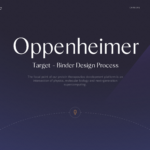 The focal point of our protein therapeutics development platform is an intersection of physics, molecular biology and next-generation supercomputing.
Target - Binder Design Process
Atomistic
Experiments
Proprietary NMR experiments coupled with HDX-MS and other experiments are used to generate ambiguous restraints for modelling of protein ensembles of Intrinsically Disordered Protein targets.
Ensemble
Dynamics
Our proprietary Molecular Dynamics engine uses experimental restraints to simulate non-canonical behaviour of disordered targets and identify the most plausible drugging sites.
Library
Design
Our Machine Learning (ML) methods generate compact but diverse libraries of high quality protein binders against the best ranking spatial disordered epitopes.
Binder
Characterization
Our advanced biophysical laboratory performs lead selection and end to end testing. A data-driven decision is made if the binder selection process requires more iterations.