Peptone presenting at Swiss Biotech Day 2023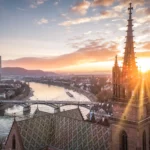 We are excited to share that our CEO, Dr Kamil Tamiola, will present our company on stage during Swiss Biotech Day 2023 in Basel.
The event draws in entrepreneurs, investors, researchers, analysts, political decision-makers and industry stakeholders worldwide. Since 2013 the event has been organised by the Swiss Biotech Association and BIOCOM AG, and it continues to grow yearly.
To learn more about the event and its excellent program, please visit https://swissbiotechday.ch/.