Peptone will present disordered cytokine engineering research during the annual Prague Protein Spring 2023 Conference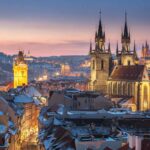 We are excited to announce Peptone's participation in the Prague Protein Spring 2023 conference devoted to intrinsically disordered proteins. Our company will be represented by Dr. Kamil Tamiola, who will give a talk entitled "Rational modulation of intrinsic disorder in cytokines using generative AI."
The Protein Spring 2023 meeting aims to cover a thematic issue, "Proteins and Diseases," addressing concepts and system approaches demonstrated on selected general topics, including protein aggregation, protein conformation ensembles, drugable disordered proteins, and multispecific proteins.

The conference will reflect both the theoretical and the experimental points of view and, finally, tackle the question of utilization of knowledge in applied science.

The primary goal of the PPS 2023 meeting is to propose a discussion on the current progress in the field and anticipate the future direction in protein science.
To learn more about the event and its excellent scientific program, please visit https://www.pragueproteinspring.cz/.