Peptone and STUDIO Gusto win an AWWWARD for brand design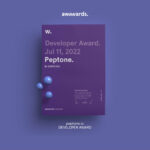 Here at Peptone, we believe that visual communication and storytelling are equally as important as impeccable science. This is why since the formative stages of our company, we we have worked very hard with the best in class designers on our brand identity and storytelling assets.
Today, we are very excited to announce that our website and brand identity designed in collaboration with STUDIO Gusto has won a prestigious AWWWARD.
Awwwards (Awwwards Online SL) is a professional web design and development competition body. It aims to recognize and promote the best of innovative web design. It is a website competition that developers can submit to. The best year-round submissions are awarded at the Awwwards conference and prize-giving ceremony, which take place in various cities across the United States and Europe.
Studio GUSTO
Studiogusto is an international creative agency, always with a view on the fast evolution in the field of digital and new media channels. In the global market and communication scene we are recognized as a boutique agency focused on excellence.
Thanks to our passion, continuous professional development, and unparalleled results, we have built a solid expertise in the luxury sector Made in Italy. This has allowed us to offer strategic consulting and communication services to brands oriented towards a world-wide market.