Peptone Expands Leadership Team with Key Executive Hires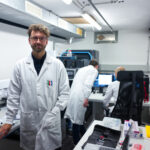 LONDON, UK and BELLINZONA, Switzerland – Peptone, a leader in translational biophysics and the design of novel therapeutics against intrinsically disordered proteins (IDPs), today announced the appointment of key leaders to its Executive Management Team and Board of Directors. Patrik Foerch, PhD, has been appointed Chief Scientific Officer; David Lowe, PhD, joins as Senior Vice President of Protein Therapeutics; and Benjamin Owens, PhD, previously Chief Strategy Officer, has transitioned to the role of Chief Business Officer and will join Peptone's Board of Directors as Executive Director. Andrew Allen, MD PhD, co-founder, President and CEO of Gritstone bio, has been appointed Board Chair.
"The expansion of Peptone's executive team with deep drug discovery and development expertise comes at an important moment in time for the company and will enable us to capitalize on our proprietary computational and experimental approaches, accelerating the company's internal drug discovery programs and external partnerships," said Kamil Tamiola, PhD, CEO of Peptone. "We are thrilled to welcome Patrik and David to the organization and grateful for Benjamin and Andrew's leadership and contributions in this important new phase of the company's development and growth."
Peptone is applying advanced biophysics, atomic-level experimental approaches including a novel ultra-low latency hydrogen-deuterium exchange mass spectrometry (HDX-MS), supercomputing and generative AI to interrogate and drug intrinsically disordered proteins (IDPs). IDPs are proteins that play a significant role in health and disease but because they lack a fixed structure, have been intractable or undruggable with conventional drug discovery approaches.
"Peptone is addressing an important drug design challenge through a bespoke use of HDX-MS and generative AI and at a time when our understanding of the biology is being propelled by advances in structural biochemistry techniques, such as CryoEM," said Dr. Foerch, CSO. "I'm excited to join this incredible team to chart new territory with potential to open therapeutic opportunities across a broad range of diseases."
Dr. Foerch is a scientific leader with more than two decades of experience in large and small molecule drug discovery with a specialization in inflammation and neuroscience. He previously served as SVP of Pre-clinical Drug Discovery at Sitryx Therapeutics and as Head of Immuno-Bone Discovery at UCB Pharma.
Dr. Lowe joins in the role of Senior Vice President of Protein Therapeutics. He has 25 years of experience in biologics discovery and early drug development, including leading teams at AstraZeneca focused on the discovery and preclinical development of biologics, including antibodies, recombinant proteins, mRNA and viral therapies. At AstraZeneca Dr. Lowe led both biologics technology platform discovery as well as biologics developability assessment. Prior to joining Peptone, he served as Vice President of Research at Evox Therapeutics, a company focused on the development of exosomes as therapeutics.
Dr. Owens has served as Peptone's Chief Strategy Officer since 2021 and is an experienced biopharmaceutical corporate development executive, having previously served as VP & Head of Global Business Development at EUSA Pharma from foundation through the €750 Million exit to Recordati S.p.A in 2021. He previously held a number of academic research and teaching positions in Immunology at the Nuffield Department of Medicine and Somerville College, University of Oxford.
Board chair Dr. Allen has served as co-founder, President and CEO of Gritstone bio since 2015. He was also co-founder of Clovis Oncology where he served as Chief Medical Officer until 2015, overseeing the development of rucaparib, an approved PARP inhibitor. Prior to that, Dr. Allen was Chief Medical Officer at Pharmion Corporation, acquired by Celgene in 2008, where he led the development of Vidaza, the first approved DNA methylation inhibitor. He has also held clinical development leadership positions at Chiron Corporation and Abbott Laboratories and worked at McKinsey & Company. Currently, Dr. Allen serves on the board of directors of several public and private biopharma companies. He graduated in Medicine from Oxford University and received a PhD in immunology from the Imperial College of Science, Technology, and Medicine in London.
About Peptone
Peptone is a translational biophysics company focused on the discovery of novel therapeutics against diseases driven by intrinsically disordered proteins. IDPs are proteins without a fixed structure that play a significant role in health and disease. For more information about Peptone Therapeutics, visit peptone.io.