Peptone opens an advanced experimental biophysics laboratory in Bellinzona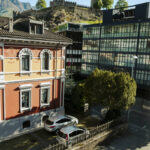 BELLINZONA, SWITZERLAND – Peptone, the translational biophysics company focused on protein drug discovery, today announced an opening of an advanced biophysics laboratory developed specifically for advanced studies of intrinsically disordered proteins (IDPs). The laboratory is located in the very hear of the historical city of Bellinzona in Switzerland and will serve as an experimental innovation hub for the rapidly expanding Peptone's team.
"Our newly opened translational biophysics laboratory will vastly accelerate our mission to bring the first in class protein-based therapeutics against intrinsically disordered protein targets", said Dr. Kamil Tamiola – the CEO of Peptone.
About Peptone
Innovative drug discovery pioneers Peptone are applying advanced biophysics, atomic-level experimental approaches, cutting-edge supercomputing and machine learning to the challenge of biopharmaceutical research and development. By bringing these proprietary approaches together, we are exploring the world of intrinsically disordered proteins (IDPs) – proteins without a fixed structure that play a significant role in health and disease – opening up the possibility of novel therapeutics against an entire class of high value and previously undruggable targets. For further information about Peptone and the company's technology, visit peptone.io.