Peptone selected to use NVIDIAs Cambridge-1 supercomputer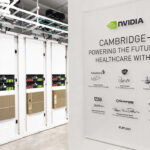 LONDON, UK – Since inaugurating Cambridge-1 in July, five founding partners have been tapping the supercomputer for projects in drug discovery, medical imaging and genomics. Peptone, a U.K. company collaborating with NVIDIA on AI-driven protein engineering, will also use Cambridge-1 for its work.
"The astounding parallelism embedded in NVIDIA processors allows us to run very dense, very complex simulations," said Peptone founder and CEO Kamil Tamiola. "We envision that computers will transform engineering and design in the protein space."
Giving startups access to the powerful system will help the companies bring their healthcare innovations to market faster, accelerating the evolution of drug discovery, genome sequencing and disease research.
Peptone, a member of the NVIDIA Inception program for AI and data science startups, aims to change the way protein drugs are engineered using unsupervised learning and reinforcement learning techniques. It plans to use Cambridge-1 to design antibodies that could help treat several inflammatory disorders.
"We don't run one massive simulation, we run millions of short simulations. With many of these calculations running concurrently, we need to think about calculating events asynchronously to get the best performance from our system," said Tamiola. "For us, the A100 GPU was a breakthrough — because with the NVIDIA Ampere GPU architecture, it was so much easier to get this right."
Developed in collaboration with NVIDIA, Peptone's protein drug discovery engine enables scientists to search for protein variants that would be cost effective to manufacture and offer promising therapeutic properties. It's already in use for pre-clinical research.
The startup combines generative AI models, computational molecular physics and lab experiments to model unstructured proteins. Also called disordered proteins, these molecules lack a stable shape, making it extremely difficult to engineer drug compounds to bind with them.
Up to half the proteins in the human body are of this shape-shifting variety, including proteins involved in cancer, inflammatory diseases and neurodegenerative diseases like Parkinson's and Alzheimer's.
These proteins are challenging to study experimentally, so Peptone uses AI and complex simulations to study the link between molecular mutations and protein behavior. The company's researchers require powerful computational resources to help them iterate faster, mutate more of the simulated proteins and build a bigger library of promising drug molecules to test.
Tamiola said the latest NVIDIA CUDA libraries helped Peptone reduce latency and "unlock that computational power" by compiling the team's standard C++ code to CUDA, allowing them to quickly port their algorithms to run on NVIDIA GPUs.
About Peptone
Innovative drug discovery pioneers Peptone are applying advanced biophysics, atomic-level experimental approaches, cutting-edge supercomputing and machine learning to the challenge of biopharmaceutical research and development. By bringing these proprietary approaches together, we are exploring the world of intrinsically disordered proteins (IDPs) – proteins without a fixed structure that play a significant role in health and disease – opening up the possibility of novel therapeutics against an entire class of high value and previously undruggable targets. For further information about Peptone and the company's technology, visit peptone.io.