Dr. Ben Owens joins Peptone as Chief Strategy Officer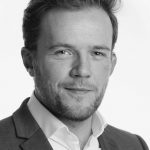 Ben has extensive practical experience of establishing, fundraising for and advising early-stage biopharmaceutical spinout companies, and is co-inventor of a patented novel therapeutic target and biomarker for inflammatory bowel disease.
Ben was most recently VP and Head of Global Business Development at EUSA Pharma, prior to the sale to Recordati S.p.A for €750 Million in 2021.
During his time with EUSA he successfully led complex, cross-border, asset and business unit transactions to completion with a range of counterparties including large Global Pharma (Johnson & Johnson), Public US/China Biopharma (BeiGene), Public US Biotech (AVEO Oncology), Private EU Specialty Care (SERB Pharmaceuticals) and Private EU Biotech (Arcoral Pharma, Apeiron Biologics).
Ben was previously an academic at the University of Oxford, holding a Junior Research Fellowship & Lectureship in Medicine at Somerville College, and a UCB Pharma Research Fellowship at the Nuffield Department of Medicine.
To learn more about Ben's role and his daily activities at Peptone, please visit his profile on our website.