Dr. Bojana Popovic joins Peptone as Chief Science Officer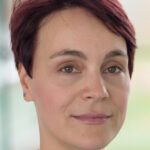 We are very proud to welcome onboard our Chief Science Officer, Dr. Bojana Popovic. Bojana joins us from Mestag Therapeutics where she worked on the first pipeline projects, establishing network of R&D partners as well as building teams and laboratory premises to enable innovation and scientific research.
She has strong experience in driving drug discovery in Research and Early Development scoping and driving antibody discovery projects with further expertise in successfully driving collaborations and partnerships as well as effectively managing CROs.
Her R&D experience is born out of more than 10 years of work at Cambridge Antibody Technology (later part of MedImmune and AstraZeneca) in 2007. There she established and led structural biology and computational biology approaches for rational biologics drug design.
To learn more about Bojana, her research interests and the latest papers, please visit her personal profile on our website.