Peptone's CEO Kamil Tamiola interviewed by Young Sohn's NEXT WAVE podcast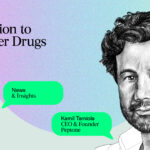 In the September 2022 episode of The Next Wave Podcast, Young Sohn sits down with Dr. Kamil Tamiola, co-founder and CEO of Peptone. By combining biophysics, high-performance supercomputing (HPC) and machine learning (ML), Peptone is unlocking the potential of intrinsically disordered proteins (IDPs).
About Young Sohn
Young Sohn is the Founding Managing Partner of Walden Catalyst Ventures, a venture capital firm helping early-stage companies in the U.S., Europe, and Israel build the next generation of category-defining businesses in deep tech.
Previously Corporate President and Chief Strategy Officer for Samsung Electronics, as well as CEO of two successful Silicon Valley public companies (Inphi, Oak) and board member of Arm, Cadence, Cymer (ASML), and others, he now serves as Chairman of the Board of HARMAN International.
Young was also an important seed investor for various innovative companies, such as Berkeley Lights, Fungible, Zoom Video, Graphcore, and TTTech Auto. Young is a co-founder of the Extreme Tech Challenge (XTC), a global start-up competition inspired by the United Nations' Sustainable Development Goals (SDGs).